Gunma University in Japan has built up a copper fiber sheet that can be used for anything from face covers to gloves, making a more grounded obstruction for the general population against COVID-19 as the novel coronavirus must be dynamic for four hours on copper material.
U.S. National Institute of Health study found that SARS-CoV-2, the infection that causes the COVID-19 illness, can remain alive on surfaces from hours to days. The infection can be steady for a few days on plastic and hardened steel, 24 hours on cardboard, three hours in pressurized canned products, and four hours on copper.
Copper is known for its antimicrobial properties, and with the assistance of copper maker Meisei Industry Co., the Japanese college put its development under a magnifying glass by accomplishing a potential forward leap in the battle to smooth the bend.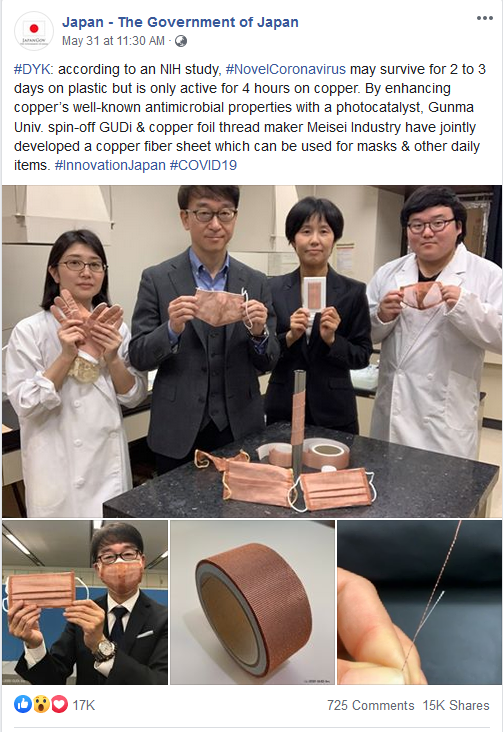 So how can it work? The copper fiber sheet includes a light-responsive photocatalyst, implying that at whatever point the sheet is presented to light, it enacts high oxidizing substances that will separate the infection particles, rendering it latent—viably killing it—in four hours.
"The material utilized kicks off something new for forestalling mass episodes of the infection, and we might want to have it out there soon," said Hideyuki Itabashi, official executive of Gunma University Development and Innovation and a teacher at Gunma University.